Avoid Surgery with Spinal Decompression Therapy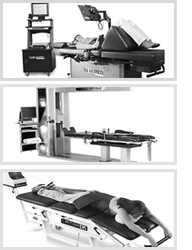 If you're considering surgery, don't you owe it to yourself to try spinal decompression therapy first?
Studies show that as many as 40% of back surgery patients have unsatisfactory outcomes after 4 years.Yet up to 95% of back problems can be treated effectively WITHOUT SURGERY-especially now that there's Spinal Decompression Therapy available to you.
Remember: except in rare cases, most experts advise that you exhaust ALL other options before "going under the knife!"
"There's no question that [decompression therapy] has enabled my spine to improve. ...I nearly couldn't move, but now I can move and I can compete where I couldn't at all. ...It was basically a countdown to the end of my career–and now it's just totally different!"